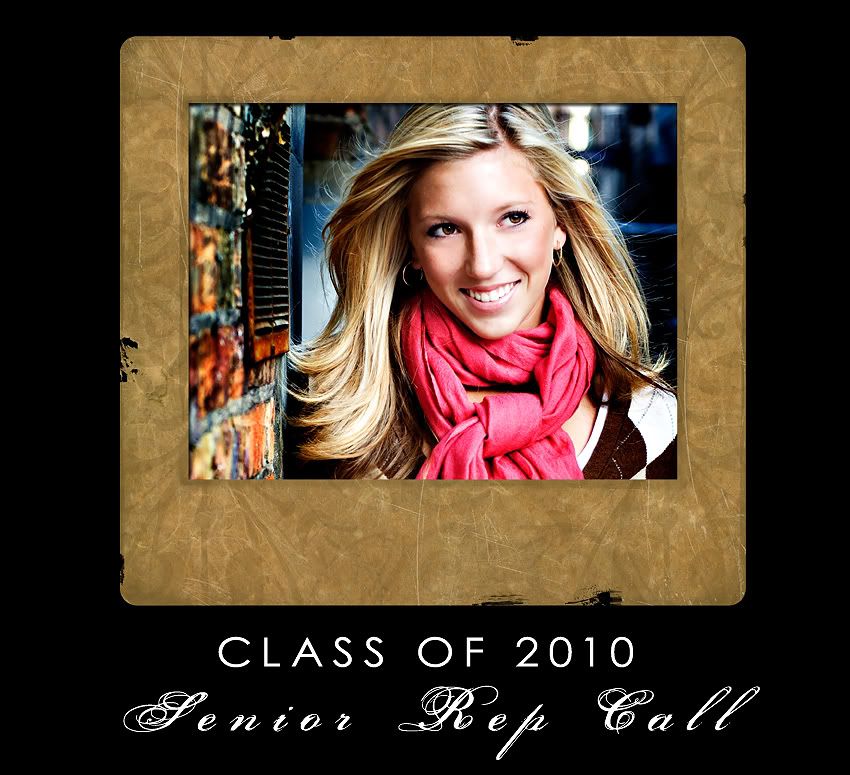 Calling all High School Juniors! If you are graduating in 2010 and you are currently a high school junior you could become a high school rep for Simplicity Photography!
Here are all the details:
What is a Rep you ask?
You will be a model for Simplicity Photography and a spokesperson for my studio.
You will pass out cards with your own photos on them to your friends and get them excited about senior pictures! These senior pictures are going to be edgy, fun, fashion forward, so you will WANT to show them off!
What will you receive?
2 Free Sessions & lots of other goodies.
The first session will be a mini-model session for promo material you will be passing out to friends, this session will be completed by in April or May. Your second session will be completed in the fall and will be a full blown senior session.
I have a great program where you can earn prints & goodies for promoting my studio.
*There will be a fun competition between the reps and whoever wins will get a HUGE prize!
Who is eligible?
Like I said High School Juniors only that will be graduating in 2010. I would love to have outgoing, fun Reps that are excited about promoting unique senior pictures!
I will be accepting 2 REPS from each of the following schools:
Alta High
EAST High
Highland High
Skyline High
Jordan High
Brighton High
Cottonwood High
Judge Memorial High
Rowland Hall
How to apply?
Email Angie at
simplicityphotography@yahoo.com
with the following info:
name:
school:
interests:
why you would make a good Rep:
describe your personality in a paragraph:
please attach a photo of yourself in the email as well, thank you!
Deadline for Application: April 8th 2009
***your images will be used in promo material, on my website, and so forth. You must get parental consent to participate.
I am so beyond excited to break into the senior market, I promise to make your images one of a kind!
Blog readers: if you know anyone that is a high school junior this year that you think would be interested please forward them this blog post!! Thank you!!
Angie Monson
Photographer